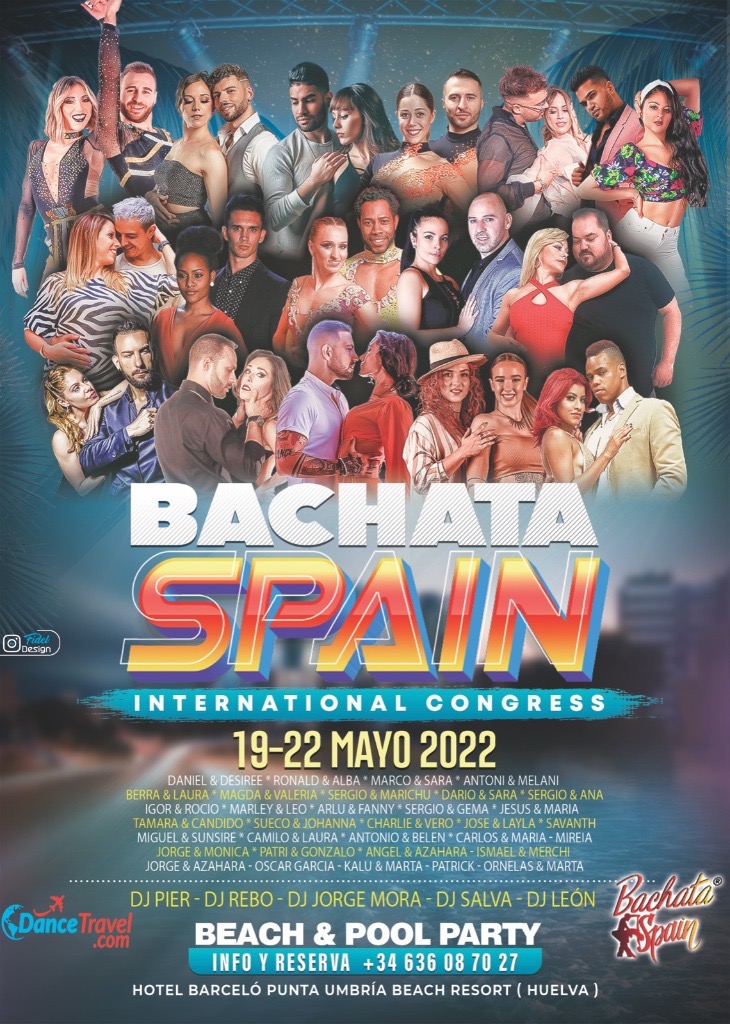 Date: From 19/05/2022 to 22/05/2022
Time: 17:00



Location: Barceló Punta Umbría Beach Resort. Av. del Decano,s/n
Punta Umbría, Huelva, España




Cambio de Titular: 5,99 €




HOTEL RESERVATIONS MANAGED BY

DANCE TRAVEL
Titulo/licencia: CICMA3085
General conditions of room booking
Tlf: +34 688 91 88 13
email: info@dance-travel.com
Description
¡¡WE WAIT FOR YOU IN BACHATA SPAIN 2021!!
From 19th to 22th May 2022, we Will have the 4th BACHATA SPAIN!!
All the event will be in HOTEL BARCELÓ PUNTA UMBRÍA BEACH RESORT (Punta Umbría, Huelva, Spain).
Airports:
Sevilla: 124km
Faro: 119km

LINE-UP:
Daniel & Desirée (Sevilla)
Ronald & Alba (Alicante)
Marco & Sara (Spain)
Sergio y Marichu (Sevilla)
Sergio & Ana (Sevilla)
Arlu & Isa (Sevilla)
Berra & Laura (Sevilla)
Savanth (Huelva)
Sergio & Gema (Madrid)
Charlie & Vero (Huelva)
Marley & Leo (Madrid)
Juan & Nerea (Alicante) NEW - NEW - NEW - NEW
Adrián...
Artists
Related