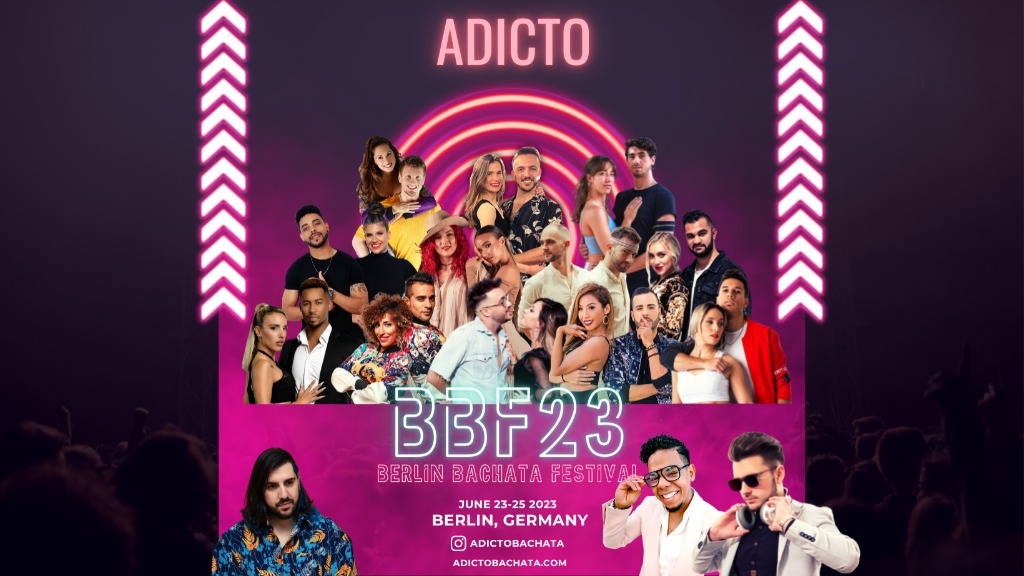 Date: From 23/06/2023 to 25/06/2023
Time: 19:00



Location: Berlin. Berlin
Berlin, Land Berlin, Germany




Description
ADICTO PROUDLY PRESENTS BBF23!
WE ARE BACK WITH THE BEST LINE-UP AND STILL WITH THAT SPECIAL ADICTO ATMOSPHERE YOU ALL LOVE.
Learn more about us on Instagram.
𝗛𝗜𝗚𝗛𝗟𝗜𝗚𝗛𝗧𝗦:
🔥 BACHATA BATTLE
🔥 EXCLUSIVE BOOTCAMPS AND MASTERCLASSES*

🔥 WORKSHOPS WITH UNIQUE CONCEPTS AND TOPICS THAT YOU WON'T FIND IN ANY OTHER FESTIVAL
🔥 A PERFECT MIX OF ARTISTS WITH DIFFERENT STYLES AND BACKGROUNDS
🔥 A PERFECT MIX OF CONTENT FOR FIGURES, TECHNIQUE, AND THEORY
🔥 MORE SURPRISES ARE IN THE PLANNING
* BOOTCAMPS AND MASTERCLASSES need to be purchased separately. Priority will be given to Full Pass holders and tickets will be available for everyone else only if spots are still available shortly before the event.
𝗔𝗥𝗧𝗜𝗦𝗧𝗦:
INSTRUCTORS
⭐️ Carlos & Chloe
⭐️ Darío & Sara
⭐️ Abdel & Lety
⭐️ Pablo & Raquel
⭐️ Leo & Estefania
⭐️ Nora & Lucio
⭐️ Felipe y Tiago
⭐️ Magda & Valeria
⭐️ Let's Play Bachata
⭐️ Zakaria & Verena
⭐️ Miki & Jenny
⭐️ Erol & Martyna
DJs
🎧 DJ Dimen5ions
🎧 DJ Alejandro
🎧 DJ York
MEDIA TEAM
🎥 Crazy Lion
🎥 Bachatown

SCHEDULE: TBA
LOCATION: We will have a new, more spacious, and more airy venue for you. Stay tuned!
Prices will increase based on the number of tickets sold and will be announced on our social media channels in advance.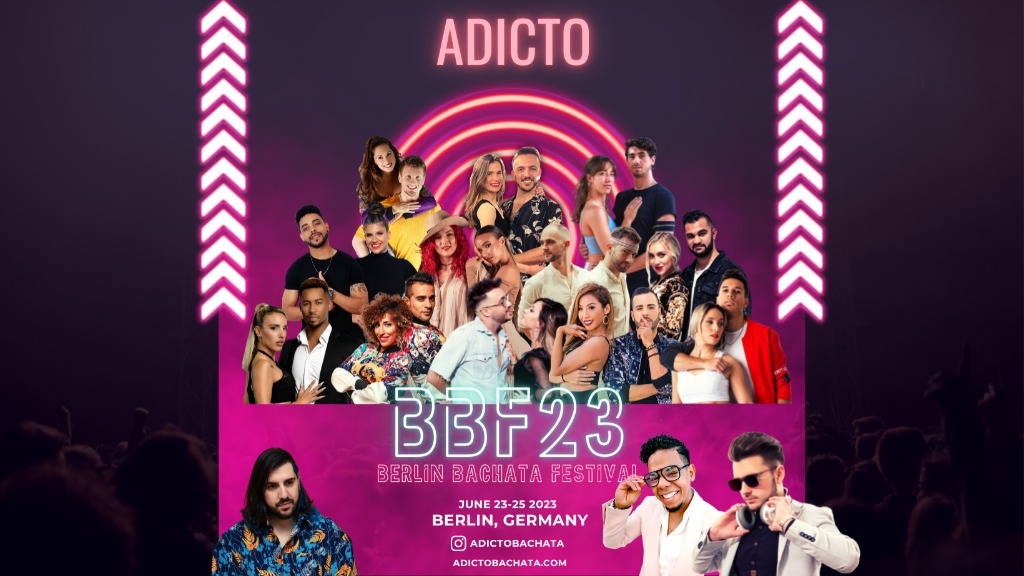 Related