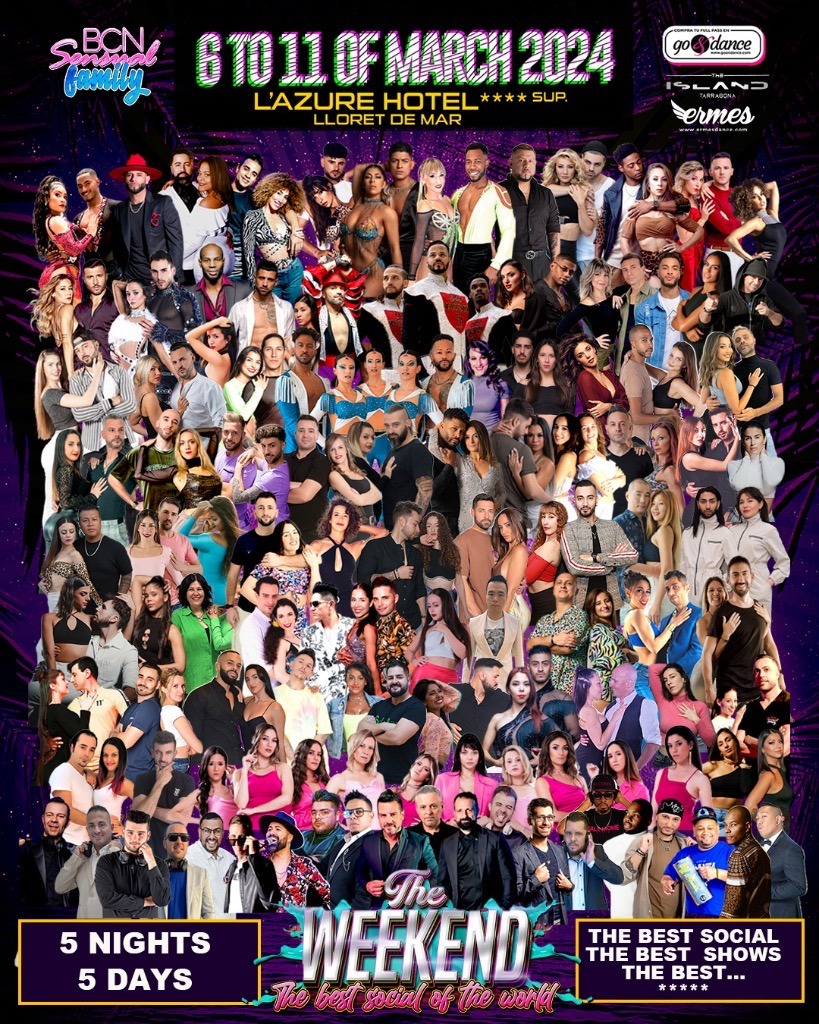 The Weekend 2024 by BCN Sensual Family
Date: From 06/03/2024 to 10/03/2024
Time: 22:00



Location: L'Azure Hotel | Lloret de Mar. Carrer dels Esports,S/N
Lloret de Mar, Girona, España




FULL PASS: 120,00 €




Description
Ya tenemos aquí la próxima edición de…
The Weekend 2024 !!!
O mejor dicho Congress, Festival…
5 días y 5 noches de auténtica locura donde el único requisito es no parar de bailar ni un segundo.
The Best Social of the World es una realidad que este año viene acompañado del mejor y nuevo hotel Alzure de 4 estrellas para satisfacer todas nuestras necesidades muy por encima de las expectativas creadas.
Social Non Stop + Shows del más alto nivel + Social Pool + Pool Party + After Party…
3 Salas de social de gran lujo, piscinas premium, infinity pool, spa, comida modernista y cosmopolita al igual que todo el hotel donde desearemos que el tiempo se detenga y que el evento no acabe nunca.
.
Este año en primicia en nuestra cada vez mayor family…
-Karen & Ricardo
-Yeremy Lugo & Steffany
-Melvin & Gatica
-Gaby & Estefy
Y muchos más ya como parte del corazón del evento:
-Ataca
-Korke & Judith
-Fausto Félix & la Fuerza Kingsmen
-Ronald & Alba
-Amneris Martinez
-Chiquito & Su Dominican Power
-Luis & Andrea
-Carlos Espinosa
-Aldredo & Andrea
-Abdel & Lety
-Tiguere & Bianca
-Gregory & Sara Lopez
-Igor & Gloria
-Rolly Maden
-Lau & July
-Azzadine
-Elsa & Sergi
-Elias & Vicky
-Laurent & Cristina
-Sara López
-Daniel & Anastasia
-Giorgios & Eugenia
-Antoine et Manon
-Julia Fernández
-André & Laura
-Andrés & Laura
-A doble filo ladies
-Jorge Camagüey
-Franco Rocha
-Miñoso Brothers
-Marc & Marilyn
-Jorge & Arlene
-Ylenia
-Jon & Laura
-Carlos JS & Espe
-Jesús & Irene
-Belinda
-Gerome
-Alvaro & Laura
-Kevin LG & Fran
-Erik & katinka
-Susane & Aitana
-Luis & Sophie
-David & Marisa
-Anita & Varea
-Gustavo Vega
-Susane & Aitana
-Sixto & Judith
-Laurent & Cristina
-Oscar Gavilanes
…. Y muchos más
Los mejores djs del momento:
DJ York
DJ Husky
DJ Toni Pecino
DJ Ned
DJ Tony
Dj Tiguere
DJ Kevin RG
DJ Smile
DJ Corack
DJ Tévez
DJ Leo
DJ Tito
DJ Paparazi
DJ Antony Tarraxa
DJ Linduka
…..
Sala social 100% bachata, otra 100% salsa y 100% kizomba.

Las palabras no son suficientes para describir esta realidad.
Tienes que vivirlo en primera persona.
Pronto más información...

Artists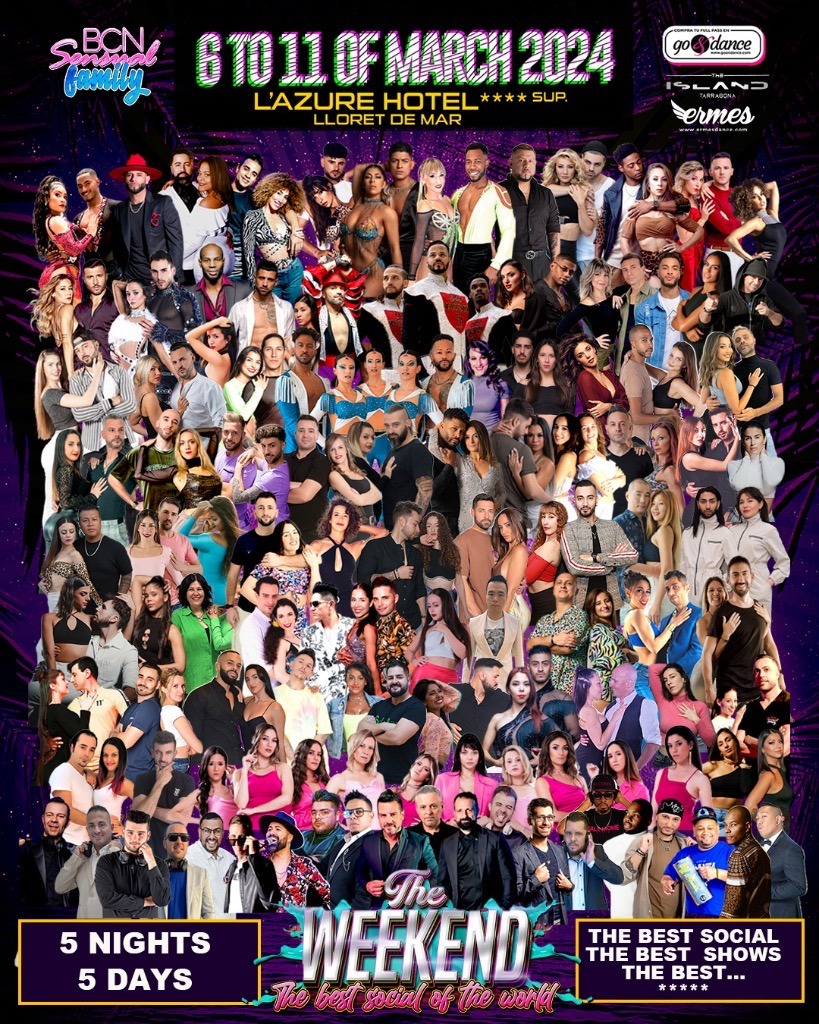 Related